When you have chickens, you have a surplus of eggs.  I am not a big egg eater and I usually have to remind myself to make a breakfast meal during the week to use up some of the eggs.  My family likes it, I just get lapse in making it.  But this meal is something that I have found is super easy to make and we can make a large batch in a few minutes.  It is very portable to make to take on the go or to make for a sit down meal.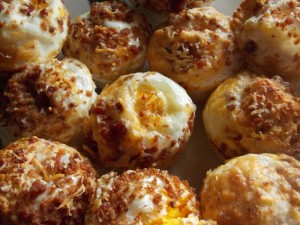 I don't even know why I thought of making them, I have been doing this for about 15 years and my children love them.
It is very simple and you can make as many as you need for your family.  We usually make 2 muffin tins full (24) and that is good for a meal for our family of 12.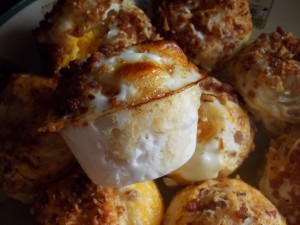 The ingredients can be easily changed depending upon what your family prefers or what you have on hand.
You will need the following:
nonstick cooking spray
eggs
can of biscuits–the small ones or the bigger ones and you can just cut in 1/3's
cheese
bacon bits
Spray and coat the inside of your muffin tins.  Place one biscuit on the bottom of your tin.  Crack an egg into it, sprinkle with bacon and cheese.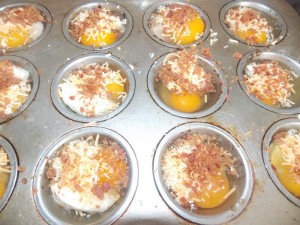 Place in 375 degree oven and bake about 20 minutes.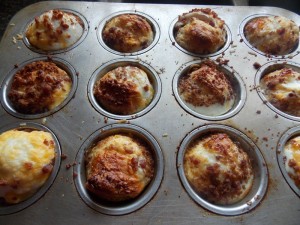 They will puff up and you will be able to see that the yolk of the egg is cooked. That means they are done!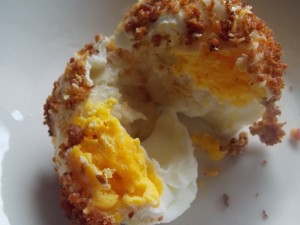 You can easily modify this recipe to your liking.  Add ham, peppers, onions, or mushrooms to your muffin cup.  You can also cut the biscuits in half and use 1/2 per tin if you do not care for much muffin part. Simple and yummy!