I know its way past the holiday season and most parents are thinking about how they can detox their children from the sugar rush of Christmas, so why am I writing a blog post about sugar cookies?
Because I found that this year was the LEAST messiest year that we have ever done cut out cookies!  This is the one time a year when I will take the time and roll out all that white flour dough and reroll it out about a hundred times as my children cut out with cookie cutters our Christmas cookies.  They always seem to put the cutter in the middle of the rolled out dough, not being as efficient as Mom would be.  But that is okay, that is where we just smile and re roll it out over and over again.  We usually do the mixing one day.  Rolling out and baking another and decorating another day.  Keeps the mess down a bit I find.
I usually just set out all the cookies and put out bowls of frosting and containers of sprinkles and let my children decorate.  They usually make a big mess, the little ones find that they love to lick the frosting and put way too many sprinkles on to the cookie.  It is usually a dreaded sight.  I employ some of my older ones to make the "good cookies" that we will give away and that have a somewhat good appearance. You can see two years ago how decorating went by clicking here.
This year I was not looking forward to that mess again so I decided to cut back and let them do just a few.  Before any child was in the kitchen I set up my area.  I mixed up my frosting's into small bowls.  I set out paper plates and popsicle sticks for each child.  Placed a bench in the area where they were going to be working and took out a few cookies for each child to decorate.  I sprinkled a few sprinkles into a small bowl for each child to have for their own and then I called the children.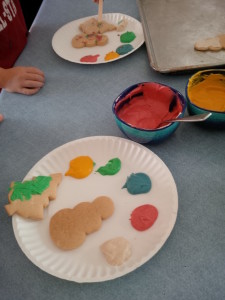 I gave each child a small blob of each color and let them decorate as they wished.  If one of them decided to mix and make a mess of their frosting's then that was the color that they had.
For the most part it made doing cookies—mess free.  I don't know why for the past ten years that I have been making cut out cookies that I was not thinking to do something as simple as putting them on a paper plate!!  But after this year, I will never go back to my "free for all" cookie decorating.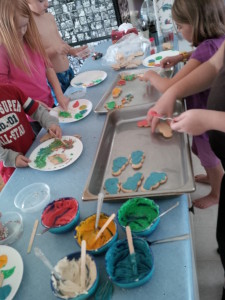 As soon as they finished a cookie, I placed it on the cookie sheet to set up.  As you notice I was hurriedly decorating as many as I could with one color frosting.  I had another child put some sprinkles on for me.  I was all about getting them done as fast as I could.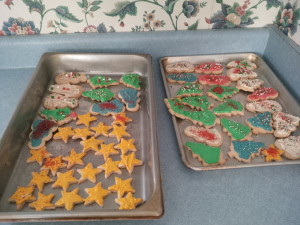 As each child finished their three cookies, I said okay let's go wash your hands and clean up.  They went into the bathroom and cleaned them pretty good on their own.  Life definitely gets easier as they get older.  The entire process took me about a half hour to complete.  Clean up was super easy and I will do this every year for as long as I live!!!
Any other advice for decorating cut out cookies and keeping the mess down?
Be blessed as you celebrate the New Year!