Having a large family has made me encounter things that probably don't bother most people, but become bothersome when serving food for large amounts of people.
One big issue, was drinks.  Getting drinks for 6 little ones takes up extra time.  We solved that by getting every child and adult their own water bottle.  Each child get's their own before meals and that solves that issue.
Another thing that slows down my time, is getting out silverware from the drawer for every meal.  Now that may not seem like a big deal for most, but when you are scooping out plates and getting out silverware for at least 6-8 children three times every day, it can become more work.
I used to have a nice heavy crock container that fit all of my spoons and forks into it and that set out on my server window in our old home.  It was a great fix for getting out extra silverware but unfortunately it did not make the move in one piece.  Since we moved here, I just put the spoons and forks into the drawers like most people do.  But I have noticed that it has become an issue again, so I decided to do something about it.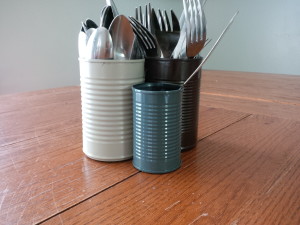 I took some cans and pounded down the inside where the metal sticks up from tearing open the can.  I then covered the inner ring with some electrical tape to make sure no one would cut their fingers.  I spray painted them different colors and then hot glued them together.  Don't be frugal with the glue, coat it nice and thick to hold it tight.  There you go a DIY silverware holder.  Simple and easy.  When meal time rolls around, this sits next to my scooping out area and I just grab what is needed for meals.  Easy—simplified.