As my girls are getting older, they want their own personal spaces.   We have decided to get each girl a desk of her own so that they can enjoy a little place in their rooms.  This resulted in moving and changing things around in the girls room.  We decided to do without a small thin bookshelf that was in here and I didn't want to throw it away, but I had no need for it as a "bookshelf."  Hmmm where where was that pin that I found someone changing a bookshelf into a bench seat?  Couldn't find it, but remembered how it looked, decided to do what I could do.
We first turned the bookshelf on it's side and nailed in the back pieces and shelves with nails.  This made it very sturdy.  We then used spray paint and primer (all in one) and painted the bookshelf.  I used a dark brown for the outside and the edges and then inside I went with a turquoise color.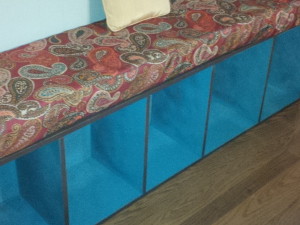 For the cushion part, I found a twin sized sheet of that egg foam that you can use on beds….for $5 at our local thrift store. I cut it into sheets and stacked them on top of each other.  I found a fall tablecloth on clearance at Walmart–the colors match my living room well and I hand sewed the material around the foam.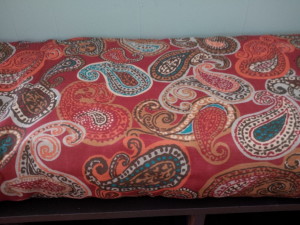 I don't particularly like to sew, so my approach was to literally wrap the cushion like a present.  I did it the same way on the sides. I then just hand stitched it together.  After being up for a month, it is still sturdy and strong.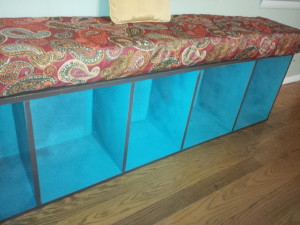 I am going to get those collapsible material cubes for the slots.  I figured I would get three and place them in every other hole.  Then we can put blankets and things inside for storage.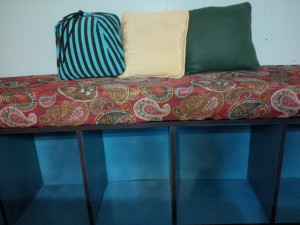 We then found some small pillows at the thrift store, washed them and placed them on for decoration.  This has become my children's favorite spot to hang out and play their tablets on.
Now that they have their own desks in their rooms, they needed a place to store all of their papers, and items.  We use plastic drawers for that but they are see through and don't look very fun.  I decided to spray paint them and they look cute.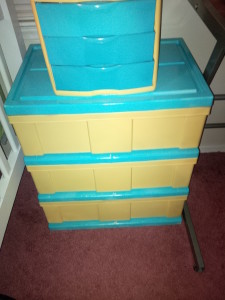 I sprayed two coats on each thing and it has held up very well.  Each girl chose different colors.  This was Brooklyns choice.  Jadyn chose blue drawers with a black frame.  Autumn chose a pink frame along with blue drawers.  Now they have a "fun" place to store their items into.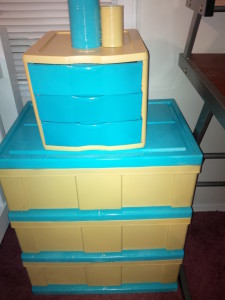 I also painted some tin cans and hot glued them together to store pencils, crayons, and other small items into.
All this cost, just the price of spray paint and it adds a little personalization for the girls. Easy, few hours project.  Enjoy.