Okay, some of you might think this is too heathenistic and that is okay.  I am sometimes the not so plain out of the plain (smile).  My daughter has been wanting her hair dip dyed for a long time now and I finally said, "okay."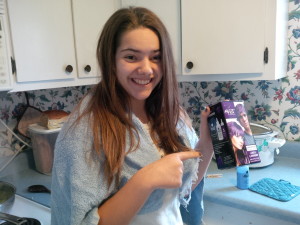 I remember talking to another mother whom I would have never thought would have allowed her daughter to do the same thing and she said, "Amy, you have to pick your battles, there are so many things that are worse off than dip dyed hair."  I had to agree.  So off we went, we headed to the store and got some Splat hair color.  I had her stand on an old towel, in case I dropped any of the color or bleach on the floor.  She put a towel around her upper body to help not get anything stained.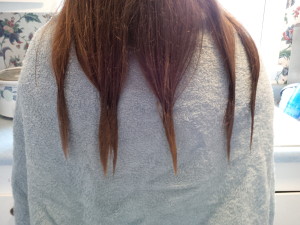 We started out with a clean washed hair and it was dry.  We then mixed up the bleach mixture and applied it to the lower parts of the hair.  Some recommended putting the hair in small sections of pony tails, that probably would have made it easier.  I just pinched the sections of the hair as I applied the bleach.  She originally just wanted the very tips, but we went up a couple of inches more, glad we did.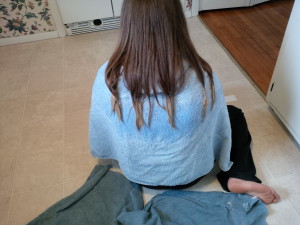 Her hair is very dark and so we had to do the full amount of time that the box recommended for bleaching the hair.  I kept applying more amount of bleach after checking it for the recommended time.  I almost used the entire bottle.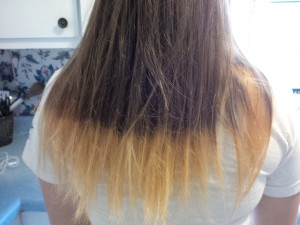 We then washed off the bleach and had her dry her head completely.  It worked!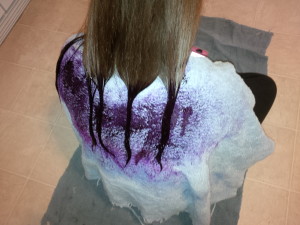 Now it was time for the color, we applied the color to the bleached part and then up a little bit on the brown parts of her hair.  This made for a nice contrast in color for the dip dye.  I probably could have saved about half the mixture of the dye for reapplying a few weeks later when this rinsed out.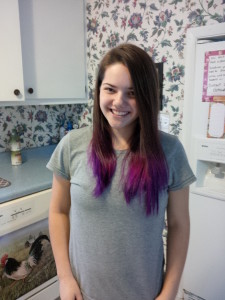 Here is the finished product, she was very happy with it.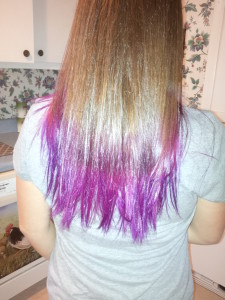 It has been a few weeks and the color has changed from magenta to more of a pink color.  But it worked for the $8 we paid for the dye.
Worse case scenario we figured we would just trim her hair if it seriously damaged it.  I know bleaching isn't the greatest for hair but we can always trim it out later on.
She is doing a pantomime dance for a talent competition in our church in the next coming weeks.  She wanted to match her hair to her dance skirt.  Fun for teens.  She is on fire, loving Jesus, knows where she stand with the Lord, holds herself accountable to God, and has vowed to wait till she is married to give her husband her first kiss, her heart, and everything else she has saved.  Dip dye to me is NOT that big of a deal.  (smile)
Here are a few pics of some friends that came to visit us a few weeks ago.  It is good to have friends to hang out with, ones that uplift you and not try and bring you down.  I am thankful for the friendships that my children have grown.
Here we are all of us piled into the 15, I mean 16 passenger van (smile).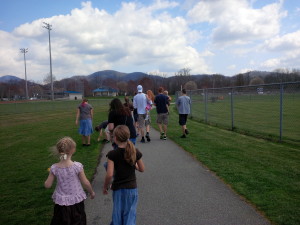 We enjoyed a picnic at Fletcher Park the first night they were here.  They are from Michigan and left when it was snowing. I was thankful that we had such beautiful warm weather when they were here.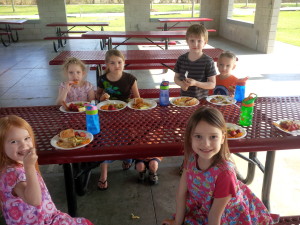 We got to enjoy a BBQ via Collin.  It was delicious.  Chicken and hot dogs.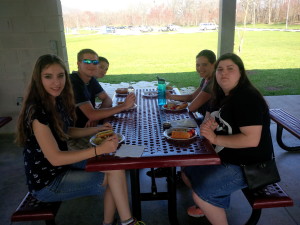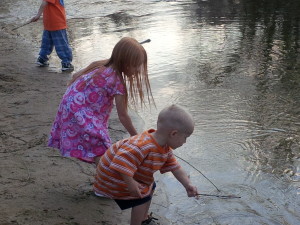 We then went for a walk around the park and discovered part of the river?!? or creek?! I don't know the correct term yet, but I know the children were loving it.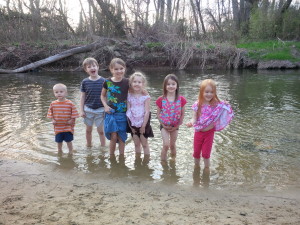 They loved it so much that they decided to get in and get wet.  The locals were like looking at us thinking we were crazy! It isn't warm yet! Oh but it is WARM for a bunch of Michiganders (smile).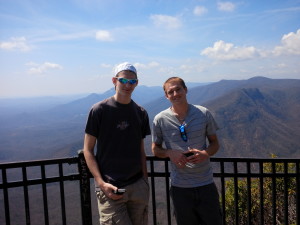 The next day we went to Caesers Head and Table Rock.  It was almost 80 in South Carolina that day, beautiful.  Here are Collin and Austin.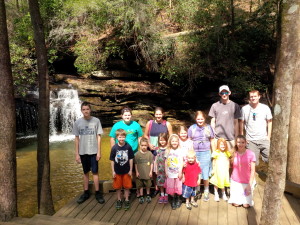 Here is almost all of us, minus a couple of teenagers.  Not sure where they were during the picture taking time.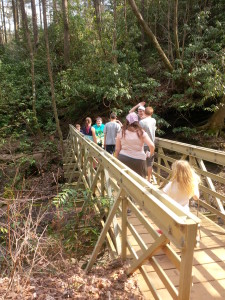 We enjoyed a nice hike, I took a slide in some mud.  Oh yes such fun, the experienced "hiker" that I am lol.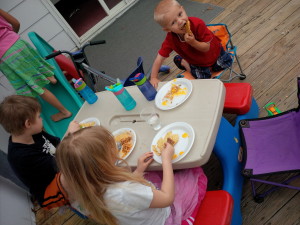 We kept our meals simple, I prepared foods the week before to make our week more about fellowship instead of making food.  Here the children got to eat outside most everyday.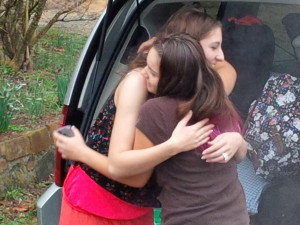 Then it was time to say good bye.  We will miss our friends, but will hold onto the memories for next time.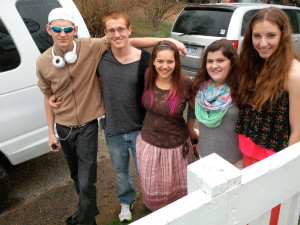 Here is Austin, Collin, Lauren, Hannah, and Molly.  A group of teens that love the Lord, nothing better than that.  I know I was a heathen and it excites me to see them desire so much more out of life than I did.  God is good! No, God is great!
Don't sweat the small stuff, look for the greater goal and focus on that.  Be blessed.