Here is the cut out cookie recipe that we use for these cookies.  For our large family we doubled this recipe.
1 1/2 cups butter
2 c sugar
4 eggs
1 t vanilla
5 c flour
2 teaspoons baking powder
1 teaspoon salt
Cream the butter and sugar until light and fluffy.  For these cookies I do not use my "healthy raw sugar or white whole wheat flour,"  I use the "bad for you regular sugar and white flour," it makes a better cookie.  Then beat in your eggs and vanilla.  Next beat in your dry ingredients until mixed thoroughly.  Put into a container and chill for a few hours or overnight.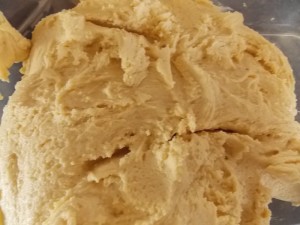 Roll them out and cut with cookie cutters.  Bake 400 for about 7 minutes.
For the gingerbread men cookies you will need the following, we doubled this recipe as well for our large family.
3/4 c butter
3/4 c brown sugar
1/2 c molasses
1 egg
1 teaspoon vanilla
3 c flour
2 t ginger
1 t cinnamon
1 t baking soda
1/4 t nutmeg
1/4 t salt
Cream your butter, sugar, and molasses.  Add egg and vanilla.  After mixed thoroughly, add your dry ingredients.  Wrap your dough in waxed paper or parchment paper and chill.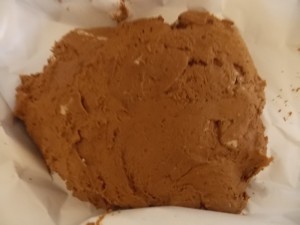 Roll the dough out and cut out gingerbread men shapes.  Bake 350 for about 8 minutes.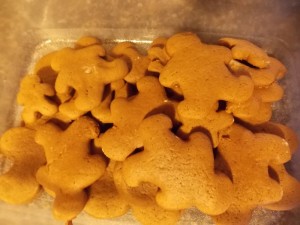 For decorating these cookies we make the following frosting:
1 1/2 c powdered sugar
3 T butter, softened
1 T vanilla
1 T milk
Beat all until thoroughly mixed.  If you need a thinner consistency, add more milk.  You can leave white or dye with different food colorings.
This is where the fun part comes in.  For extra fun, let your 1,2,3,4,6, and 8 year old loose in the kitchen with bowls filled with sugar, sprinkles, and candy toppings.  Yikes!!!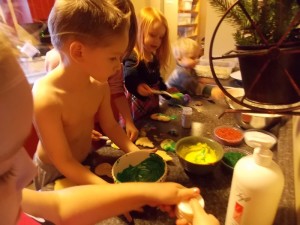 I know at one point, some of them were just spooning up the frosting, dipping it into sprinkles and then eating it:)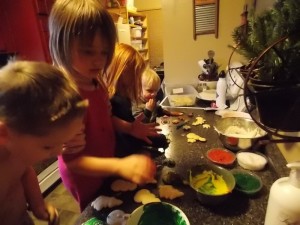 For those of you that were recipients of our cookie packages this year, I promise that we gave you the "safe" cookies.  The ones that the older children did, no licking at all, I promise.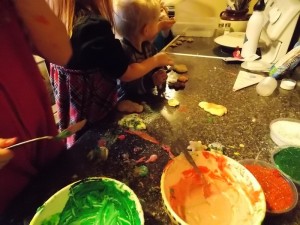 They had so much fun making these cookies.  Even though it made a complete mess in the kitchen, I was smart this year and did not do it at the table, which would of been an even bigger mess, they had so much fun.  I am glad that we only do these once per year.  Some got creative and made "real faces" and accessorized the trees properly.  While others just blobbed on frosting and a bunch of sprinkles.  I think there were more sprinkles and frosting, smeared on the counter tops and floors then on the actual cookies:)  Fun fun.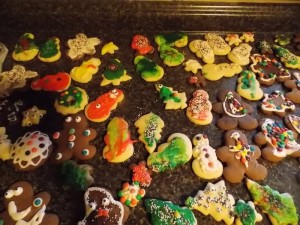 Here was the "safe zone"  no licking children allowed.  We bought candy eyeballs for our gingerbread men.  We also used mini M&Ms.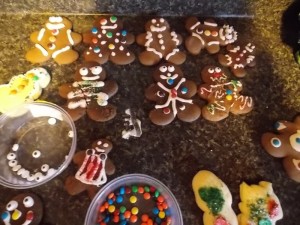 Not too bad after an hour of decorating.  These bowls were at one time white and yellow frosting.  I am not sure how they both got green?!?!!?


I had to post a picture of my favorite cookies.  The eyeball star, was a true winner in our household.  The cookie on the right was a marbled effect, done by a talented 2 year old, who enjoyed smearing the frosting.  I am thinking we should market those, marbleized sugar cookies:)  The tree was just a little bit of everything, not really anything.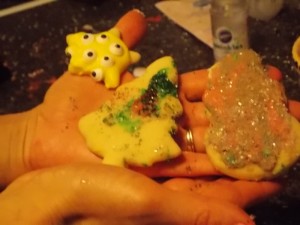 Not too bad for a large family decorating day.