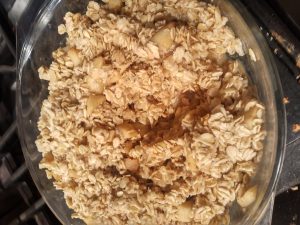 Crockpot apple cinnamon oatmeal
2 apples, peeled and diced
1/3 cup brown sugar
1 tsp cinnamon
2 cups oatmeal—old fashioned
4 cups water
Place the diced apples into the bottom of the Crockpot. Sprinkle with sugar then cinnamon. Sprinkle oatmeal over the sugar and apples and slowly pour water over all. Do not stir this mixture. Turn on your Crockpot on low and cook for 3-5 hours.
Or just place it all in a bowl and microwave for 5 minutes and keep covered for about 5 more minutes.