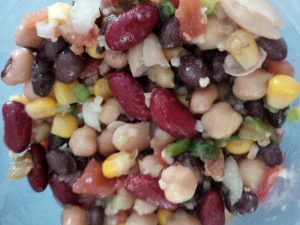 This recipe comes to me from my friend Tammy.  You can see her original post here. 

I have had this bean dip/cowboy caviar before at our old church.  I thought it was one of the best tasting things I have ever had!  I tried to copy it back then but didn't quite have all the ingredients just right.  Then my friend Tammy gave me a container of this the other day and I tasted it and was taken back to years ago when I first had it and it was good!
It is so yummy.  This would make a great dish to take to a potluck meal.  I mean I don't even need a potluck meal to make this, I would have it in my refrigerator to eat some everyday.  It makes a pretty dish and with some colored tortilla chips it is a nice presentation.
1   15 oz can black beans drained
1  15 oz can black-eyed peas drained
1  15 oz can pinto beans drained
1  15 oz can dark red kidney beans drained
1  15 oz can garbanzo beans drained
1  15 oz can sweet yellow & white corn drained
1 1/2 cup finely chopped celery
1 medium red bell pepper diced
1 medium yellow bell pepper diced
1/2 of a  purple onion
1 minced fresh jalapeno ( I add 2 for hotter)
2 heaping Tbsp. of minced garlic
1 small bunch of fresh chopped cilantro –I skipped this because I am allergic to it

Tortilla chips for scooping
Dressing
1/2 cup of rice vinegar

1/2 cup olive oil
1/3 cup of sugar
1 tsp. salt
1 tsp. black pepper
Open, drain and rinse all your beans.  Then put all the ingredients together in a large bowl.  Mix up the dressing separately and pour over it.  This is delicious.  Hope you enjoy!  Don't forget to smile today!    Have a blessed day!