I don't know if your son is like my son, but he just isn't into "book work" very much and that is okay.  I would rather him, be out doing man things and learning through play and activities.  But once in awhile there are a few things that a Momma has to put her foot down with, when it comes to penmanship, that has to happen sometime in the boys life.
I try and make this as harmless and painless as possible.  Quick and easy or plain and simple.  I bought a composition notebook at the store. I used the regular ruled lines.  This idea is from Donna Young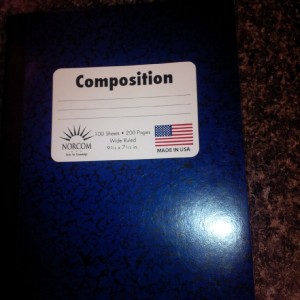 The way I broke his writing up into is by weekly lessons.  I will have him do penmanship copywork on Monday and Tuesday.  Journaling on Wednesday.  On Thursday I have him doing some commonly misspelled words copywork as well.  That is all for now, I know he will be having more writing in his other classes this year.
I then came up with 80 boy sayings.  Things that are going to help encourage, your young man on his path of life.  Some rules, morals, and values.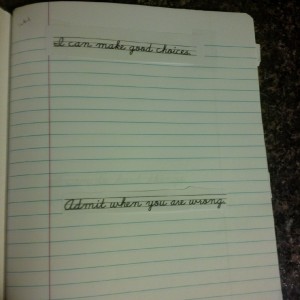 After printing them off , cut them up and use a glue stick to stick them down on your notebooks.  I figured I would have him copy each line 8 or 9 times. That took up 40 pages in this book.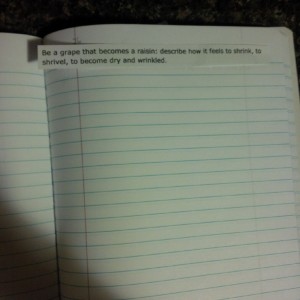 Then for his journaling, I copied off some story starters for him to write about.  I did 40 of these as well.  Glued them to the top of the page and will let him write as he pleases.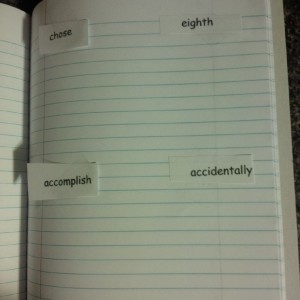 Then we had 20 pages left that were empty.  I decided to split each page in half and give him 2 words per week of the commonly misspelled words.  I gave them to him in print and will hope he can copy them in cursive.  Maybe 8 times each.
This will be his writing curriculum for the year.