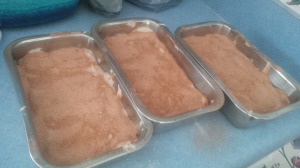 To make 3 loaves of bread mix the following into a large mixing bowl
1 1/2 cups butter
3 cups sugar
3 eggs
Cream the above, then add
3 cups buttermilk—-in a pinch? mix milk with 3 T vinegar and stir, let sit for a few minutes and will begin to curdle
3 t vanilla
6 cups flour
3 teaspoons baking soda
3 teaspoon salt
Mix all thoroughly and pour half of the mixture into 3 of the greased pans.
In a separate bowl mix
2/3 cups sugar
2 T cinnamon
Sprinkle half of the cinnamon mixture onto all 3 breads, then pour the remaining batter on top.  Finish with sprinkling of the remainder sugar/cinnamon.
Bake 350 for 40 minutes or until done.