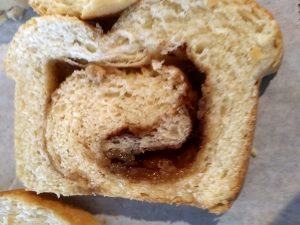 Combine and stir until dissolved.  1/2 cup warm water, 2 pkgs dry yeast, 1 T sugar.
Then in a separate bowl stir:
1 cup milk scalded
1/2 cup coconut oil
1/2 cup sugar
2 tsp salt
Let cool and add the yeast mixture to it.  Then mix in:  1 egg, 2/3 cup milk, 2 cups flour.  Beat until smooth.
Then mix and knead in 5-5 1/2 cups more flour.
Place in a greased bowl and let rise until doubled.  Punch down and make into two balls.  Let rest 10 minutes.  Roll into a rectangle. Spread on 2 T melted butter, 1/2 cup brown sugar, and 1 Tbsp cinnamon. Roll  up to fit in a loaf pan.  Let rise until just below the rim. Bake 350 for 40 minutes.  Immediately spread with melted butter on top.  Slice and serve when cooled….Very delicious.  We even added powdered sugar glaze for extra sweetness.