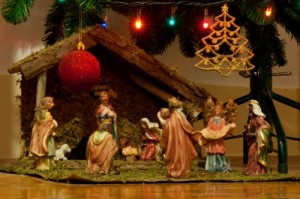 photo courtesy of artur84@@freedigitalphotos.net
With the Christmas season fast approaching and lots added to our "to do" lists, I wanted to take a moment and help you reflect upon this season.  We as women can get so wrapped up in the "doing" that we forget the "being" part of Christmas time.  I wanted to write this devotional to help us identify with each of the nativity people.  This will be presented in a 10 part series–each day signifying a different person.  You can download it here for the complete devotional to use in your ladies group–includes all scripture NKJV.  Or you can enjoy a new person each day through my blog.  Be blessed as we go about remembering the reason for this season.
Day 6: The shepherds
Read scripture: Luke 2:8-20
The first people chosen to hear about the birth of the Messiah were the lowly shepherds. These guys were not significant people at all. They spent the majority of their days worshiping God while out tending their flocks. Not out doing some great ministry job. It shows that God chooses the humblest in spirit to do His work. It is no surprise that God chose these people to proclaim the news of His son's birth.
We should never disregard our self as never being not good enough for God. God is looking for those with a pure heart to be able to do His work. That is it! He doesn't care what type of profession you are in, your social status, your age, or how much money you make—-he just wants you.
After seeing and being confirmed that the baby was born, they rejoiced and spread the good news. They were excited for what God had done.
Do you need to appreciate that God wants to bestows his favor on you? It does not matter what your situation is in life, what matters is that you WANT to serve God. He will make all of those problems and negative things in your life, work out for His glory. Do you need to stop complaining about all of the bad going on in your life and instead start speaking the goodness that God bestows upon you? Stop focusing on the negative and start focusing on the positive things. Life will get much better!