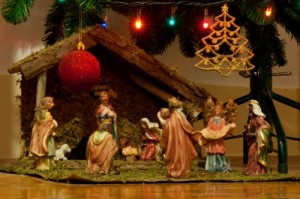 photo courtesy of artur84@@freedigitalphotos.net
With the Christmas season fast approaching and lots added to our "to do" lists, I wanted to take a moment and help you reflect upon this season.  We as women can get so wrapped up in the "doing" that we forget the "being" part of Christmas time.  I wanted to write this devotional to help us identify with each of the nativity people.  This will be presented in a 10 part series–each day signifying a different person.  You can download it here for the complete devotional to use in your ladies group–includes all scripture NKJV.  Or you can enjoy a new person each day through my blog.  Be blessed as we go about remembering the reason for this season.
Day 5:  The angels
We have multiple references in Bible about the angels given the job of proclaiming the good news. They approached Zachariah, Joseph, Mary, and the shepherds, I know that the angels are not mortal beings but to be giving the task of sharing good news with people has to be exciting.
I think of the job that Ty Pennington has on Extreme Home Makeover, what a great place to be! Here you have these stories of people just being pushed through the wringer of life and he gets to tell them that their life is about to change physically for the better. You can see the joys in the eyes and through the tears of the people. Knowing you are doing something to help better their life, now that is a good job to have!
Sharing all the good that God has done in your life and how God will do it for someone else, is the greatest gift you can give to someone. We need to look for opportunities to worship the Lord and serve as His messenger to the lost of this world.
Do you need to be more like the angels and take the time to worship the Lord and share the goodness that He brings—especially during this stressful, sometimes chaotic time of life? One of the best things you can do is take the TIME to do something nice for someone else. Maybe it will be to sit and just listen to someone. Maybe it will be to bless someone financially this holiday season. If you know in your heart that you should be helping someone else, even in a small task—do it! God will show you what you need to do. Something even as little as buying a cup of coffee for a worker out on the streets this holiday, will go a long way. Don't underestimate small gestures of blessings. You don't know what people go through or what they need, but God does.