Hello, I hope your day is off to a good start today.  It is almost the weekend!! Lots going on for people.  This can be an excited, joyful filled time of the year for some but it can also bring about a lot of depression, anxiety, worry, and stress for many. There are so many things that we feel we need to "pack" into our lives to give our children the best experiences, the best memories, and to not let anyone else down because we didn't participate in an activity with them.
 Isn't it just like our enemy, Satan, to want to bring about chaos during one of the only times of year that we as believers can celebrate Jesus with the world?
I mean we should be celebrating Jesus every day, but Christmas time is one of those times of year that we can be a shining example easier to the world.
How do you go about avoiding the stresses during this time of year?  You simplify.  You cut WAAAAYY back.  Don't decorate your entire home, just set up one area with decorations.  If you have children, they are happy with a string of Christmas lights hanging in their rooms:)  If your children can help, let them decorate.  Yes, I know it won't look as nice as when we would do it, but it is one less thing to do and by the end of the month, you can put it away:)
Keep you holiday foods simple.  We would always try and do appetizer type foods on Christmas day and I really liked to do that and felt like a total failure when I couldn't.  But when we had a baby a week before Christmas, it was not going to happen.  My husband went and bought pizzas that year.  My children were just as happy with pizzas as appetizers.  It was a treat we didn't normally get and they were happy.  One Christmas Eve, we got Happy Meals for all the little ones.  They were thrilled!!!  Foods more for us, not them, keep it simple.  Make sure you have a few fresh fruits, some cut up vegetables, and hardboiled eggs.  Then when they are eating pizza for dinner, you can make sure at lunch time they get something healthy in that day:)
Presents………presents….presents….this is probably one of the biggest stresses of all.  You either have too much to buy, not enough money, or just thinking about it stresses you out.  I would sit down and make a list of who you have to buy for and ideas for things to purchase.  This would be a great time of year to try out Amazon Prime—-I believe you can get a free trial for a month.  The prices are very comparable to the stores and you can sit at home, order, and it ships to you.  I find that the easiest.  If I can buy it on Amazon, I usually do.
Take a day and look up some homemade gift ideas for other people.  Especially when you have lots to buy for.  You can make some really nice homemade gifts for cheap.
Look for situations where you can bless someone else.  My daughter and I were recently talking and she was sharing how stressful this time of year was for one of her single mom friends.  I told her one of the greatest things she could do was to reach out and help her.  Give her money as a gift.  Do it anonymously.  It is hard enough when you have two working parents trying to make Christmas happen for children, let alone a single mom.  Buy up some gift cards to Walmart and keep them in your purse.  Pray and ask the Lord for ways that you can bless someone else this time of year.  I know He will show you someone whom you can help.
If you can't afford to do that, then make an extra meal for friends.  Everyone would appreciate a dinner they would not have to make during this busy time as well.   Lasagna, soups, casseroles, homemade breads, and salads, would be all welcomed from the recipients.
One thing that I as a Mom did not do every year and wish I would have, is to take a family photo.  I mean I did try MOST years, but not every year.  It was just too  much.  The years that I did remember, I sat all the little ones in front of the tree and took a photo.  It doesn't have to be elaborate and all dressed up, pajama memories are great too.  This will be something you can look back on and remember.  I mean an entire family photo is great but that can be super stressful to get done as well.  We do ours at Thanksgiving time and I tell my family, no one eats until we smile for the photo:)  Well, at least that has been my policy for the last couple of years:)
A fun tradition that our family does each year is to make some holiday ornaments.  This year we are inviting our homeschool group over for a day of lunch, ornament making, and cookie decorating for our community tree lighting ceremony.  The girls and I took this week and made some salt dough ornaments for us to paint and decorate with our friends.
You can watch the video here
This is how we made them: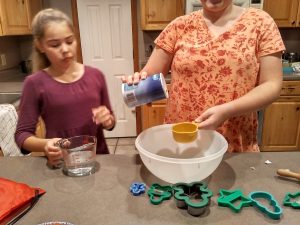 In a bowl combine 1 cup salt and 1 cup warm water until dissolved.   Then mix in 2 cups flour.  Do this slowly  so that it mixes well.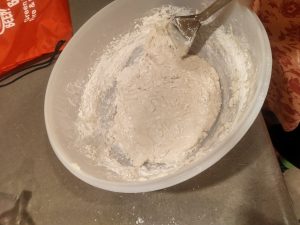 You treat it like bread dough and knead it together well.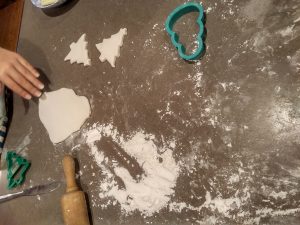 Put some flour on the counter and roll them out.  Use cookie cutters that are simple and basic.  Avoid any thin pieces as they will be susceptible to breaking off.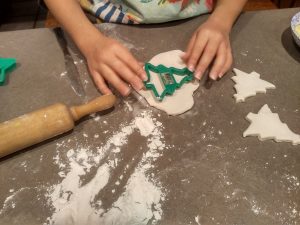 You want them a little thicker not too thin.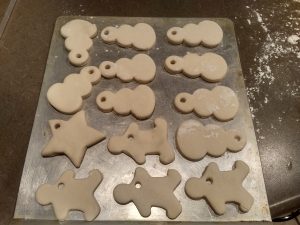 Place them on a cookie sheet to dry.  We put ours on top of the refrigerator and flip them over after a couple of days and they dry up nicely.  You can also put them in the oven on 250 degrees for a few hours.
Paint with acrylic paints, googly eyes, markers, etc.  Spray with clear coat for a perfected look. Hang with twine or ribbon.
Enjoy!  Have a blessed weekend!!!