Hey everyone, I hope your having a great start to your week!  We have been busy the last few weeks and I wanted to share a little of what we have been up to…..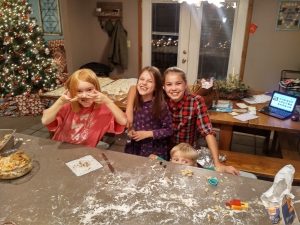 The week after Thanksgiving we made a bunch of cut out sugar cookies and gingerbread men for our community tree lighting ceremony. The children and I mixed up and baked a bunch of batches.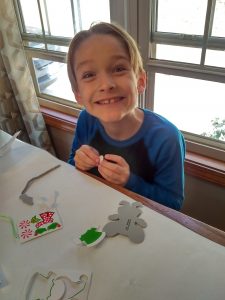 We then invited our homeschool group over for an ornament and cookie decorating party.  I bought some sticker ornaments from Oriental Trading that they put together.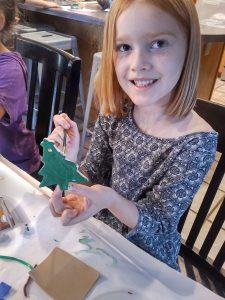 We also baked some salt dough ornament and then let the children paint them.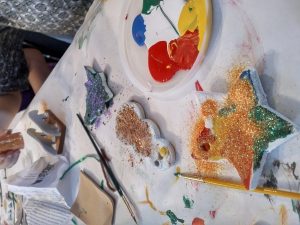 One mom brought some glitter so they added that to the ornaments.  It looked so pretty.
It was a fun messy day. I put large sheets of paper to cover the tabletops and make clean up easy.  Each mom brought some different things to make ornaments.  They did bird seed ornaments, foam marshmallow ones, and beaded candy canes.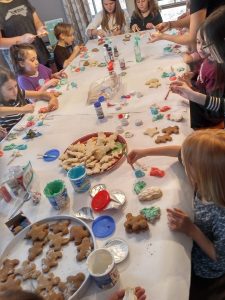 Then we had everyone wash their hands very well and explained to the children to NOT lick their fingers or their spreading sticks:)  This was going to be cookies for the community tree lighting ceremony.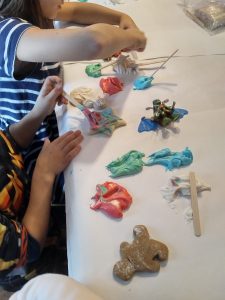 We then colored frosting…everyone brought one can of white and placed a dollop by each child's place and gave them each a popsicle stick for spreading.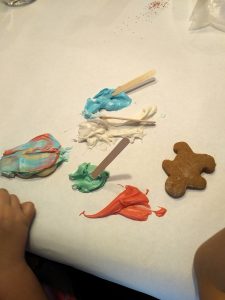 This worked well instead of having a bunch of plates to throw away.  We had the sprinkles in the center of the table…everyone brought one container to share.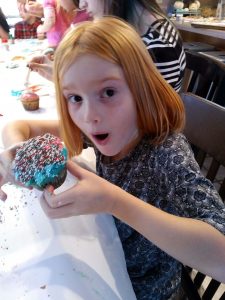 When we were all finished I gave them each a cupcake and they decorated that with the leftover frosting and sprinkles.  That was what they were able to eat right then.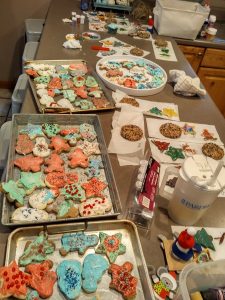 We ended up with a couple of huge trays of cookies to take down to our park the next day.  I think the favorites…were the three eyeball snowman and swirling gingerbreadmen:)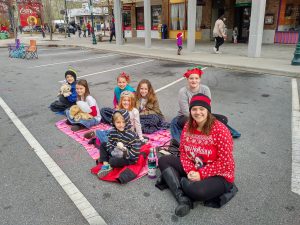 The next morning we woke up and went to our main city for the Christmas parade.  We have been going every year since we moved here.  The children really enjoy it.  Then it was home for a couple of hours to wait until the tree lighting ceremony at our park.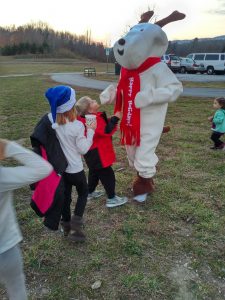 Around 4 we went down to the park and played. It was a beautiful day.  The children got to run around and play with friends and then "Snowman and Reindeer" showed up to play as well.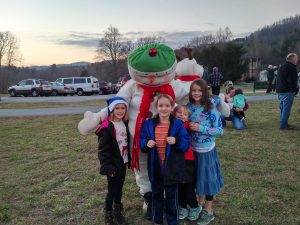 We took down our cookies and they had hot cocoa for everyone too.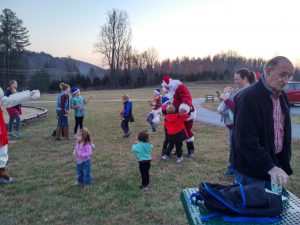 Then Santa came to play around as well.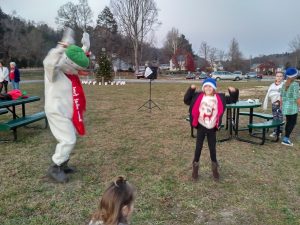 Here is Madelyn dancing with the snowman:)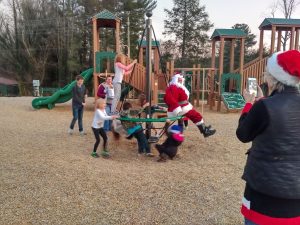 The children even convinced Santa to get on the merry go round….he lasted for a little bit—more than I could:)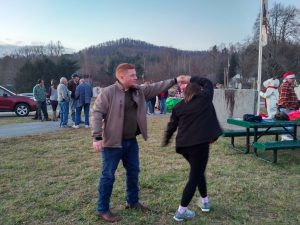 Matthew and Lauren even swing danced a bit:)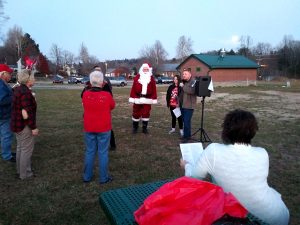 We sang some Christmas songs  and then we lighted the town tree.  We stayed until we couldn't see the children anymore:)  Then we went home.  It was a great time.  They started this tradition a year before we moved here and every year there are more and more people attending.  It is good to see the community come out and be part of it.
Then we had a week of school, busy, and life:)  My friend Tammy was sharing with me about Dollywood Cinnamon Bread…so I looked up the recipe and it looked very delicious.  I attempted it with a recipe that I had at home.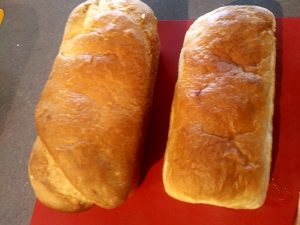 We made a batch of this and then I ended up making it again the next day.  Very delicious bread.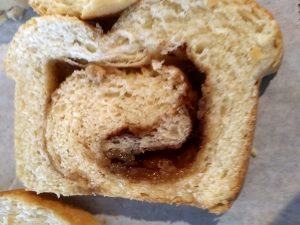 Cinnamon bread–click here for recipe.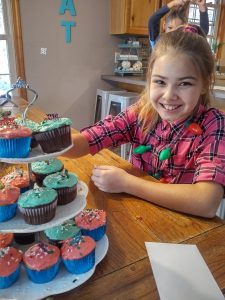 Then we had Brooklyn's 11th Birthday!  She wanted to invite some friends over and have a little party this year.  We baked some cupcakes and she frosted them.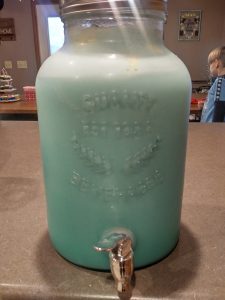 She found this recipe for blue punch and we tried it.  It was good.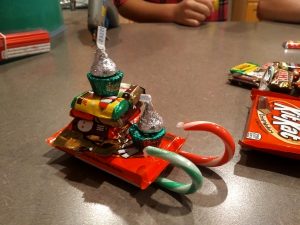 Then the girls made some candy bar sleds.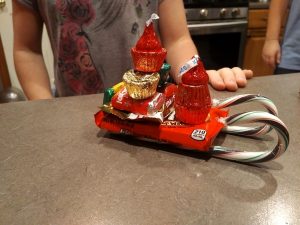 We just hot glued all the pieces on.  They also made flubber…which I don't have any photos of:)  They played Christmas Charades, Jingle Bell Toss, Candy candy hunt, and lots of laughter.  It was a busy couple of hours as we had to get to church on time.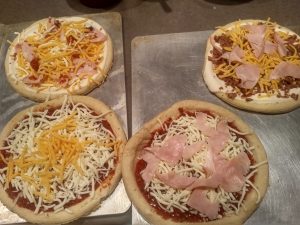 They each made individual pizzas for their meal and we served cupcakes and drumstick ice cream cones.  It was  a fun afternoon for her and she enjoyed having the fellowship with her friends.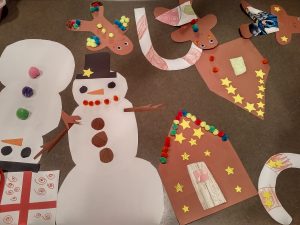 The next day….my little ones were rather bummed they didn't get to make flubber so we dedicated that day to craft day…you can watch the video here.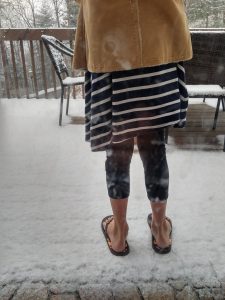 The next day we woke up and it started to snow……..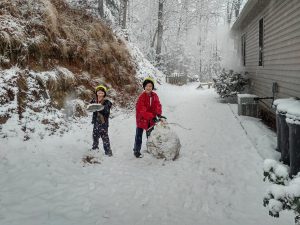 It snowed and snowed hard for hours.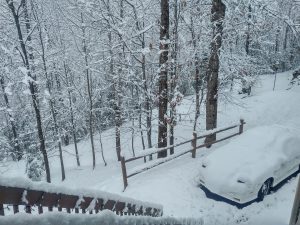 We ended up with about a foot of snow….which was fun for the children.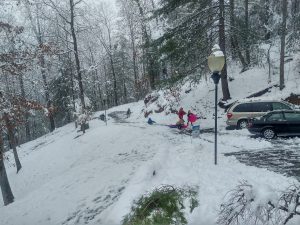 They got to take their sleds that we were able to find down here and go down the driveway.  It was fun…then the power went out…which is not so fun.  We had lost power for about a day and a half. I was very thankful for the propane gas fireplace, lots of snow to melt, and we did have some bottled water on hand.  It takes a whole 5 gallon bucket of snow to melt for one pot of water…in case you ever wanted to know that:)  We survived and made it…you just do what you have to do:)  I am thankful for restored power and "normal."
That begins my day today. I am now catching up on laundry, cleaning, and getting together a shopping list for food.  I decided not to do a big freezer meal prep this month..I am only going to shop for a few weeks worth of groceries.  We have a cookie party coming up, another birthday, then christmas and new years….so I think it will be best to go back to preparing meals…so I have the freezer space for special foods that we will be buying.  We also will be finishing up school this week and taking a 3 week break.  We started the year early because the weather was so yucky and now we will enjoy a much needed school break this week!  I look forward to spending time making treats, watching movies, and just enjoying not having the extra school stuff to check:)  It will make a fun vacation.
I pray your day is off to a great start…if not…take a few moments alone and breathe….then go back and restart your day with your children.  Be blessed and see you soon!