This year we hosted a Christmas cookie exchange.  I sent out my invitations a month in advance.  This gives everyone plenty of notice.
christmas cookie flyer  Here is the invitation I made.
When everyone arrived, I handed them 4 clothespins and told them whenever they heard the word "Christmas or cookie"  they were able to take the other persons clothespin from who said it.  At the end of the party I gave the woman with the most clothespins a coffee cup and lid filled with peppermint tea bags and mints.  Walmart has a 5 pack for around $3.  They look like the disposable kind but are plastic to reuse. (no pictures sorry)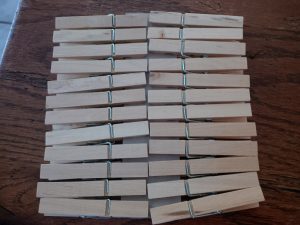 We prayed and then ate some food.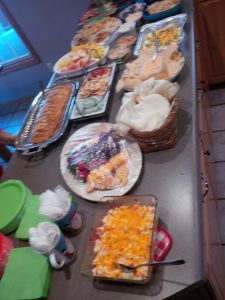 I made veggie pizza because I had some extra from our church party.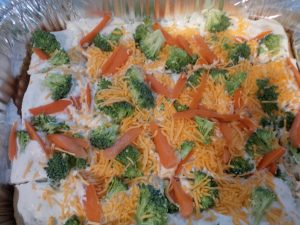 I also made BLT dip.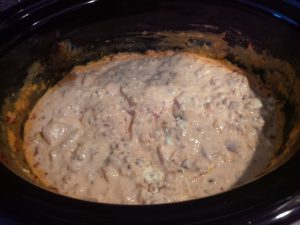 This is very good, it tastes just like a BLT sandwich.  Serve it with corn chips.  That seems to be the best flavor.
Pizza bombs were good too.  Saw it on one of those videos on my Twitter feed.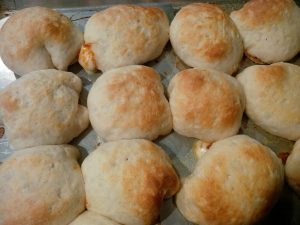 We did a hot chocolate bar.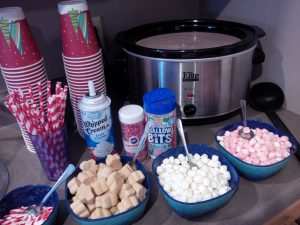 I filled the crockpot with homemade hot cocoa.  We had marshmallows–gingerbread flavor, peppermint flavor, and regular.  Whipped cream, sprinkles, and candy canes for toppings.
I also made some pink party punch.
For one of the games, I handed them a half sheet of green construction paper and foil sticker stars.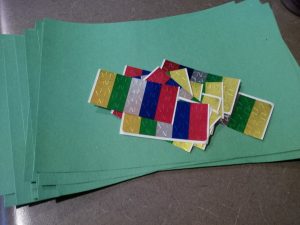 I had them put it behind their backs and without looking, tear out their best Christmas tree.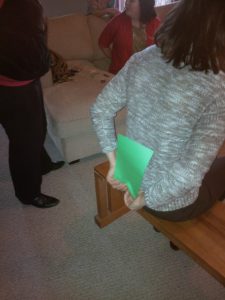 They had to decorate it with stickers.  No peeking.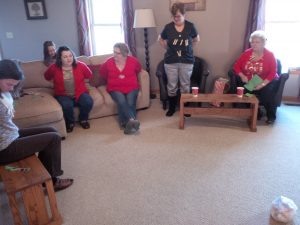 We voted the best and gave a prize.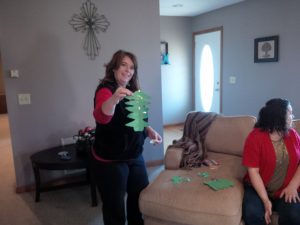 I bought some Christmas hand soaps and used those as gifts.
The other game was I had bought inexpensive prizes:  body butter lotion, Jelly Belly jelly beans, M&Ms, cookie cutters, hot pads, window clings, $ bills and smaller candies.  I wrapped them in plastic wrap.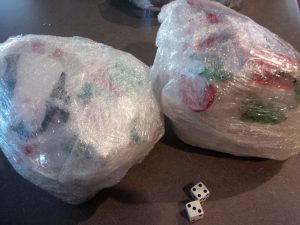 I had a huge roll that we used at the Tailgate Market our first summer here.  I periodically tore off the plastic wrap and tapped it.  Otherwise when someone would unroll they could get a bunch of prizes quickly.  I had two balls going and a pair of dice.  The person on the right had to roll a 6 and then they were able to take a turn and unwrap as much of the ball as possible.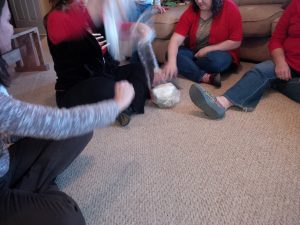 We also did an ornament exchange game.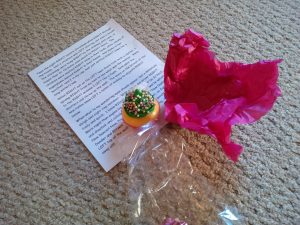 Everyone brought one wrapped ornament.  I printed off and read the LEFT RIGHT Night Before Christmas Story.  Everyone got to go home with a new ornament for their tree.
We were to bring 60 cookies, so I divided up the number of ladies we had by 60 cookies and we got to take that many of each kind.  We did it around the table and then I had my big roll of plastic wrap to cover them.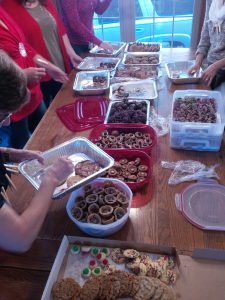 My husband lasered me some ornaments to send home with everyone.  It was a nice time and we got a nice arrangement of goodies.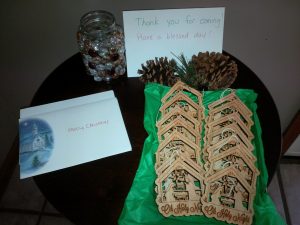 The children were downstairs playing games.  I didn't get any pictures because I was busy upstairs.  They did the plastic wrap ball game but I filled it with gummy bears, mini cookies, bubbles, chapstick, and slime.—Note to self, no slime next year.  This got on some of their beds and made a mess:)
They did the clothespin game but instead dropped it into a mason jar from a chair.  (Remember doing that as a child?)
They also did the Christmas tree tearing game behind their backs.
I also typed up some Christmas activities and had them play charades.
We also had red pom poms glued to pieces of string.  They had to put the string in their mouths and try and get the pom pom to stick to their nose(which we applied vaseline to).  Sugar was running high and within two hours, they were ready to go:)
Busy time but a good first Christmas cookie exchange here.  We hope to do it every year to make it a tradition.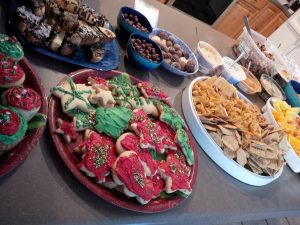 Have a wonderful day today!