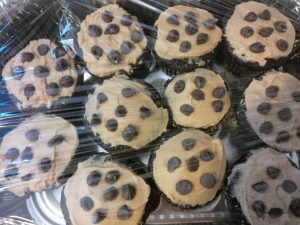 Chocolate cupcakes
In large mixing bowl:
2 c flour
2 c sugar
2/3 c cocoa
2 tsp baking soda
1 tsp baking powder
1/2 tsp salt
2 eggs
1 cup milk
2/3 c oil
1 tsp vanilla
1 c brewed coffee, room temp
Mix with electric mixer.  The batter will be thin.  Pour into cupcake liners.  Bake 350 for 30 minutes or until done.
Frosting
1- 3oz cream cheese
1/4 c creamy peanut butter
2 c powdered sugar
2 T milk
1/2 tsp vanilla
Blend on high until creamy, spread on cooled cupcakes.