Start out with thin chicken breasts.  I bought mine that way or you could pound your own.  I then layered slices of ham on top. To save money, when lunchmeat is on sale, buy a bunch and freeze it.  It tastes just the same after being thawed.  Then layer a slice of provolone or swiss cheese.  Roll them up and secure with a toothpick.  Then dip in a beaten egg mixture and roll in breadcrumbs.  We sprinkled ranch powder on top and thought that was the BEST flavor added.  Place in pan and cover with aluminum foil.  Bake 45 minutes or until done.  Take the foil off for about the last 15 minutes to make it browned and crunchy.
This is what it looked like before………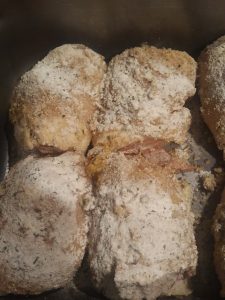 After it was baked……….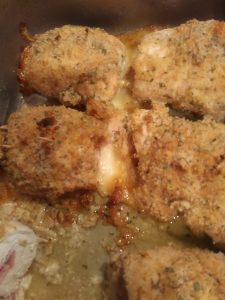 Then at serving time. ……………We made some egg noodles with alfredo sauce.  Delicious!