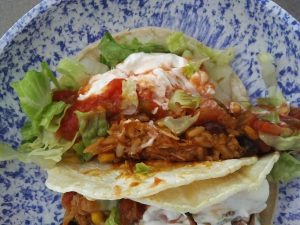 This is a great tasting meal that we enjoyed eating very much.  You can make a big pot of it and then freeze some for a later meal–if you have any left:)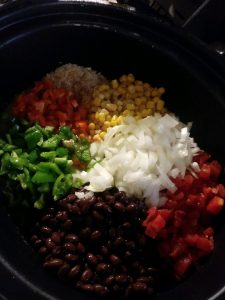 In your crockpot add the following—this is Tammy's photo–I didn't add them all nice and neat, I just poured them in together.
On the bottom pour a big can of mild Enchilada sauce then add:
can of black beans–I added two
2 cups salsa or add diced tomatoes, cut up onions, cut up green peppers and red peppers ( I only had salsa on hand)
can of corn–I added two
rice—I added 3 cups
amount of water for the amount of rice you added (I added 6 cups of water with 3 T chicken bouillon mixed in)
2 cups shredded chicken(I froze this on my meal prep day)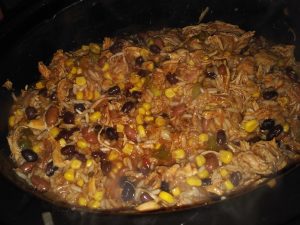 Stir together and cook on low for 4-6 hours until rice is soft.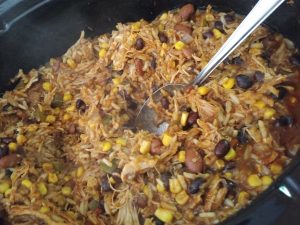 This is what it looks like all cooked.
Our toppings:
corn tortillas–cooked on griddle with grapeseed oil
flour tortilla
shredded cheese
lettuce
salsa
sour cream
ranch
Serve.  I also made some up and froze them for a quick lunch.