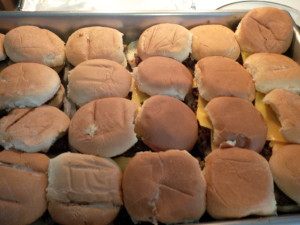 One of my favorite sandwiches to make are my ham and cheese sliders.  They are a quick way to make a large amount of food for cheap.  My daughter Lauren was showing me one of those videos from her news feed that do recipes really quick.  Genius idea!!!  Puts an entire step by step recipe on video in under one minute!! My kind of way.  Well this was one recipe that caught my eye.  Of course I had to go by what I remembered of how to make it, so this is what we do.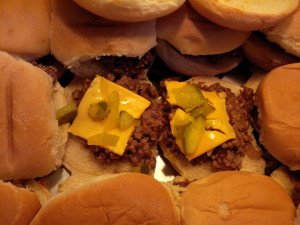 I layered my pan with the bottom half of slider buns.  In a chicken fryer, I browned my meat, added an entire whole onion chopped up—this is important–you want that good onion flavor.  (use the food processor–way faster)  I then added one can of diced tomatoes.  Salt and pepper for seasoning.  Put a dab of that on each bun—it goes quick.  We then took a cheese slice and ripped it into fourths and put one on each burger.  I chopped up some pickles and added those as well.  Then put on the tops.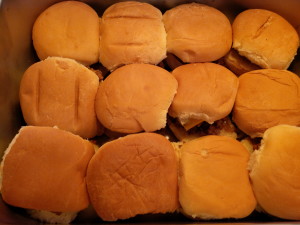 Put them into your oven on 350 with foil to melt the cheese for about 15 minutes, take off the foil to give them a little crispness to the bun for about 5 minutes.  We actually like them plain like this, but we have tried doing the glaze that we put on the ham and cheese ones.  It makes it sweeter which is okay, but not our favorite.  We then also brushed the tops with just butter—that was okay too.  We then did some with butter and garlic–okay as well.  But I found that they were just as good plain for our family.  This is a favorite go to recipe, because I always have ground beef on hand in the freezer, so when I come across some buns for cheap I grab them and freeze them.  Where we don't always have lunchmeat for the ham ones on hand, so this is more convenient.  Try them, they remind me of a good slider.  Like good ones—not greasy yuck:)
Enjoy your day today!  I am looking forward to planting some flowers today, It is nice to be able to give your home a little sprucing up in something as simple as adding flowers for color.  Be encouraged today, knowing that another mother is in the same situation as you are.  Know that you are loved by the Lord and that when you are feeling sad and down, He is the ONLY one who can comfort and fill that void.  Be blessed today.
Amy