We use 3 lbs of hamburger in our family.  I mix up 3 lbs of raw meat, with 3 eggs, 1 cup oatmeal,salt, pepper, and about 1/2 cup of chopped onion.
I press down half of the mixture into a 9×13 pan.  Top with ketchup and mustard.  Slice some pickles on.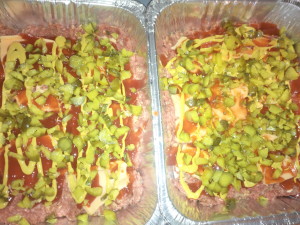 Then top with cheese slices.  I then add the remaining hamburger on top.  Bake 350 for about 1 hour or until done.