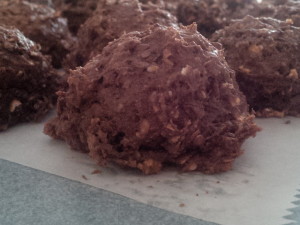 I have been making these cookies for about the last year.  I wanted something that I could feel good that my children were eating AND something that they enjoyed eating.  We made these throughout the entire summer last year and would take a bag with us to the local lake for a snack in the afternoon.  Very delicious.
Bananas around our home never go bad, too many people to eat them up.  But when I see them on sale for a bag of overripe bananas—I grab them,bring them home and put them in the freezer whole.  When I have a nice collection of brown bananas, I know it is time to make some breakfast cookies.
I originally made this recipe without the cocoa powder and my children enjoyed it, but this year I started making it with the cocoa powder and now they LOVE them even more.  It is a simple thing to make.  We usually multiply this recipe times 10.
2 large bananas, mashed
1/2 cup peanut butter
1/2 cup honey
1 T vanilla
1 cups oats
1/2 cup whole wheat flour
1/4 cup cocoa powder
1/4 cups flax seed
1/4 cups nonfat milk powder
1/4 teaspoon baking soda
2 teaspoon ground cinnamon
1/2 cup dried cranberries
Place a scoopful onto a cookie sheet.  This is what they look like before baking.  They are a stiffer dough and will stay that way.  No worries that they will "run" into each other.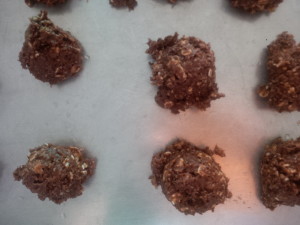 Bake at 350 for about 20 minutes.  Let them cool and place into a container and freeze.  These thaw quickly and stay perfect until time to eat them.
I sometimes add chia seed or hemp seed if I have any of that on hand as well.  You can add basically any ingredient that you want for added nutrition.  It tastes like a chewy chocolate ball.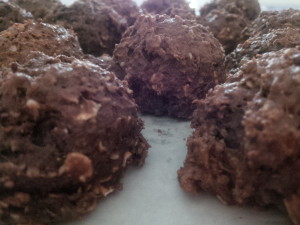 Next time you have some over ripe bananas, instead of throwing them away, put them directly into your freezer.  When you know that you will be baking these cookies, take out your bananas and place them in a bowl.  After they thaw for a bit, just pierce the peel and squeeze out the banana—I know gross!!  But it works. If you don't you can just peel the banana while it is frozen solid like an apple.  Either way, I prefer squeezing:)
Hope you have a happy Monday.  Smile more and know that you are fulfilling a wonderful role today.  Even if your day consists of changing diapers, providing an income for your family, or helping your mother do chores, everything that we do has an impact on others around us.  What sort of impact will you make today?
Be blessed.       Amy