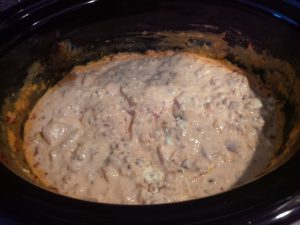 In a crockpot or casserole dish combine the following:
1 container of 16 oz sour cream
1 8 ounce package of cream cheese
1 cup miracle whip or mayo
1 pd of bacon (I did 3 bags of bacon bits)
2 cups of shredded cheddar cheese
1 can diced tomatoes
Serve this with corn chips, they seem to be the best flavor.  I also saw where you put this in a head of lettuce for presentation wise.  Tastes just like a BLT sandwich.  It is good cold or hot.  I heated it in the crokpot till it kind of turn light brown in color and then shut it off.  The next day it was good as a cold dip.