A few weeks ago, I made a dinner for our church business meeting.  I had to scour the internet to look for the amounts of food that I would need.  Some of it was difficult in finding. After I made the meal, I knew I wanted to post the amounts of food that I made, in hopes of helping someone else out for the future.  That is what we are here for—to help one another.
This was the menu that was planned:
fried chicken
calico beans
macaroni and cheese
cheesy potatoes
green beans, bacon, and french fried onions
tossed salad
rolls
pineapple upside down cake
oreo cookie/pudding dessert
For the chicken, we ordered it from a local deli.  You should plan on about 2 pieces per person.  We ordered 90 pieces and had about 6 pieces left over. enough for everyone.
Calico beans
2 large 10# cans of baked beans–**see note
4 regular size cans of butter beans
4 regular size cans of kidney beans
3 # hamburger, cooked beforehand
large bag of bacon bits from Sams Club–I used about half
ketchup
mustard
vinegar
brown sugar
salt
molasses
I wish I would have the exact measurements for the sauce, but I cook with taste.  I started with about 3/4 bottle of ketchup, 2 T vinegar, 3 big squirts of mustard, 1 cup of brown sugar, and the rest was by taste.  Mix that up separately and taste it. You want it tangy because the bean mixture is going to be tomato and will help make it less zingy.
***Now for this amount, I had about 1/2 of the beans left.  Next time, I would recommend 1 less can of baked beans.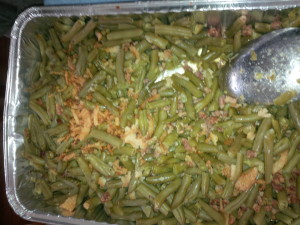 Green beans
2 large #10 cans of green beans***see note
the rest of the bacon bits from the beans
1 large bag of french fried onions sprinkled over top.
**we had only eaten about 1 can of green beans, I would use only 1 can next time.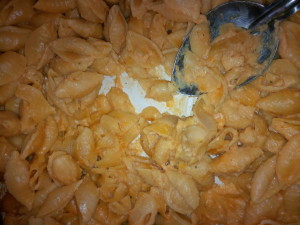 Macaroni and cheese
Cook 3 boxes of shell macaroni, cook almost until done.  In saucepan, melt 2 sticks butter and thicken with flour.  Add milk and whisk. I sprinkled in some chicken bouillon for some extra flavor.  I then added about half of a large bag of shredded cheese from Sams Club.  I added about half of a can of cheddar cheese   for more creaminess. That is the large #10 pound can of cheese you get for Nacho making, you can get it at Sams Club.  If you are going to cook this in the oven, make sure that it has plenty of liquid.  The noodles absorb and it will by dry if you don't make it right.  If you need to add more milk, do that.  Taste the liquid and make sure that it tastes cheesy enough.  I would just cook this on low in the oven around 300 degrees just to heat it slowly.  That way you will avoid burning it or making it too dry.
**these amounts were about correct, only a little bit left over, about 1/2 of a box of pasta.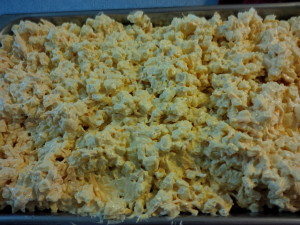 Cheesy potatoes
I used 4 bags of southern style diced potatoes.  To that I mixed up the following mixture:
2 containers of sour cream
2 cans of cream of mushroom
2 cans of cream of chicken
1/3 of that large #10 can of cheddar cheese
1/4 of the bag of shredded cheddar cheese–from the macaroni
1 onion diced up finely
Mix all of that and cook on 300 degrees until heated through.
****Next time, I would probably do 3 bags of potatoes, as there was enough leftovers.
Rolls
I went to Sams Club and bought their pull apart rolls.  I bought 2 boxes of them.  The only flaw that I noticed was that you had to "pull" them apart.  some of them in the middle were mushy.  I would probably recommend buying the rolls that you can get in bags over by the Deli.  Firmer and already separate.
Butter–only used 1 stick of butter
Salad
I bought 7 big bags of salad from Sams Club, 1 pkg of cherry tomatoes, 1 bag of cucumbers, and the rest of the cheesy from that large shredded bag.
Plenty of salad—too much, guess people are not into salads (smile)  I would recommend using only 3-4 bags.  I added all the tomatoes, cut up about 3/4 of the bag of cucumbers–from Sams Club, and then topped it with cheese and 3 bags of croutons from Aldis.  I could of used only 2.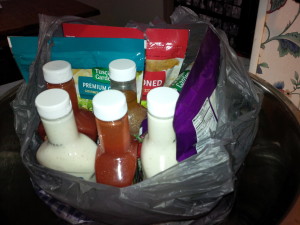 Dressing, we used almost 1 full bottle of ranch, about 1/2 of french, and 1/3 of Italian.
For dessert I made 3 full size pineapple upside down cakes.  I could of gotten away with just making 2.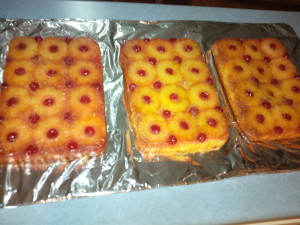 I covered a piece of cardboard with tin foil to use as a platter for carrying the cakes.
Another person made 2 pans of oreo cookie/pudding dessert.  Almost all of that was gone.
For 50 people, I would recommend 4 pans of 9×13 desserts.  Choose one chocolate kind and one vanilla kind.
This worked out well, our family ate the leftovers so nothing went to waste, but I put in the amounts I would recommend for someone who doesn't have a large family to feed afterwards.
Pray this is a blessing and helpful advice, to help not to waste food for ministry gatherings.