We had three birthday celebrations back in February—-yes I am behind:)  They were all within a few days.  I like everyone to have their own cake or treat to feel special, but too many desserts and I am feeling a little bloated:)  My second oldest daughter chose to have her traditional eclair dessert.
Then my youngest daughter wanted an angel food cake with strawberries.  I like angel food cake with strawberries too!  So I decided since our family was so large, that we could definitely just make two different angel food cakes–one fat free and one regular homemade and that would be enough cake for everyone.
For the fat free version, purchase an angel food cake mix and one can of crushed pineapple—that's it!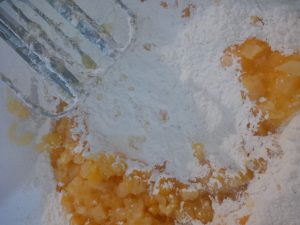 Mix them up well and pour into your tube pan.  I did not spray my pan because the box did not say to spray your pan.  In my homemade version I do–not sure if it makes any difference or not.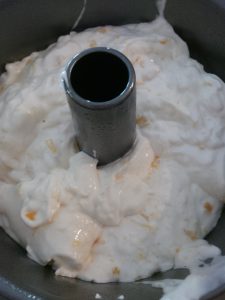 Bake as directed……………then start making your homemade version.  We used to make this almost every baking day back when we had 25 chickens–because it uses up so many egg whites!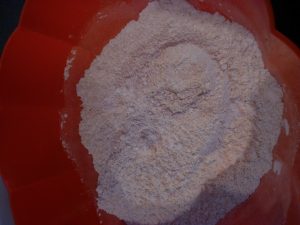 In a mixing bowl, sift 1 c flour and 1 1/2 c powdered sugar and set aside.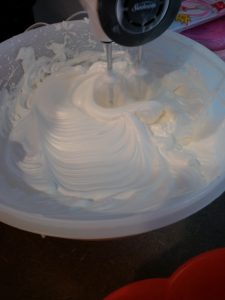 In large mixing bowl, beat 12 egg whites–best at room temperature, 1 1/2 tsp cream of tartar, and 1/4 tsp salt until foamy.  Add small amount of sugar a time–1 cup total.  This will get shiny and have peaks when you pull the mixer up.  Gentle fold in the flour and 1/2 tsp almond and 1/2 tsp vanilla extract a little at a time on the lowest speed of your mixer.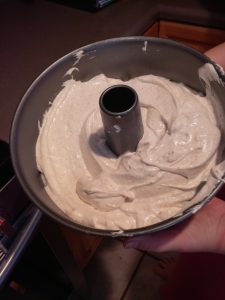 Pour into your pan, gently.  Bake 30-35 minutes or until top springs back when touched.  Invert pan until completely cooled.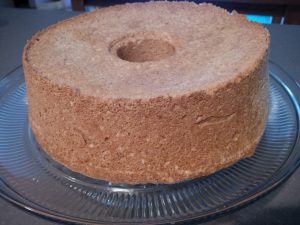 We like to serve our cake with cut up strawberries and cool whip.  You can use fat free or coconut cool whip for a healthier version.  To compare the taste of both of them side by side, the homemade one is definitely thicker and you feel like your eating a good piece of cake.  The fat free version is a lot lighter.  The pineapple gives it a great taste and I felt like I could eat a few pieces–which I did, and not feel guilty at all.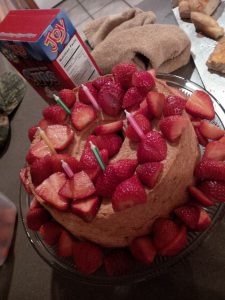 Go ahead and eat your cake and NOT feel guilty:)  Be blessed today!