Ok, I finally did it!  I got back into once a month freezer cooking.  I don't think I will ever want to go back:)
I did all my shopping this past week and got everything that I needed to make over 100 meals for our large family. I spent 800 dollars and I have plenty of food, even a few extras that I didn't need.
You can watch my youtube video on how I did everything here.
Or for those who want to see photos, continue…………
These were all the dinners that I made: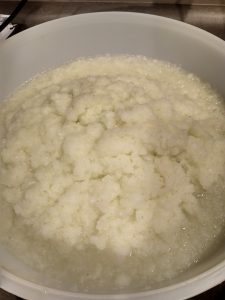 I started out with my large bag of onions from Sams Club, I pureed almost the entire bag.  I saved two for future meals.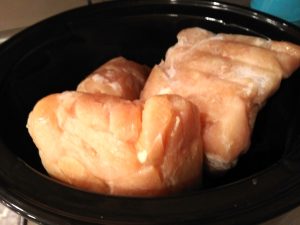 Then I got my crockpot going and cooked 2 packages of chicken breasts.  This was going to be used for shredded chicken in multiple recipes.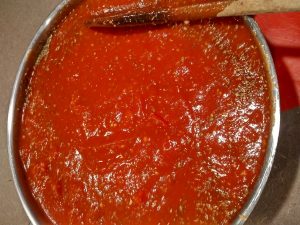 I then got my red sauce dishes going.  I bought two big 10 pounds can of tomato sauce from Sams Club.  I made a spaghetti based sauce out of that and spices.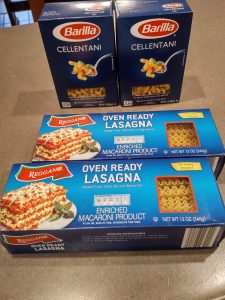 I cooked some lasagna and some pasta.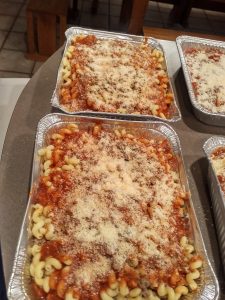 I then made two pans of Million Dollar casserole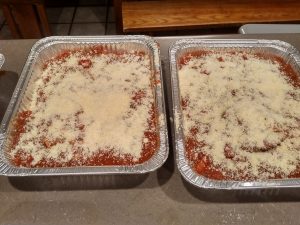 two pans of lasagna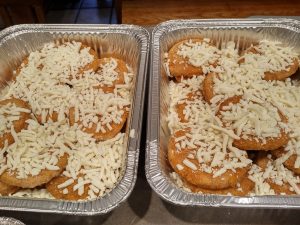 and two pans of chicken parmesan   This I will serve over spaghetti noodles.  I added sauce to the top of these.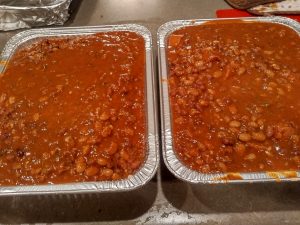 I then added more sauce and few extra spices to make two pans of sausage red beans and rice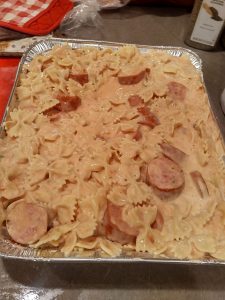 I then added the remainder red sauce for a pan of Jared's casserole.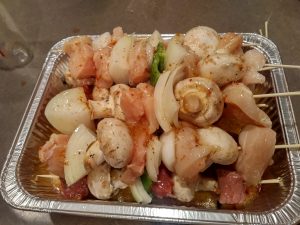 We made four pans of shish kabobs.  This included chicken and beef.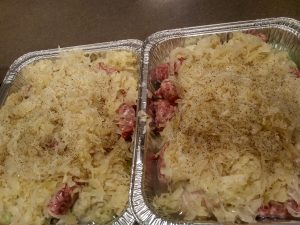 I made two big pans of gwumpkies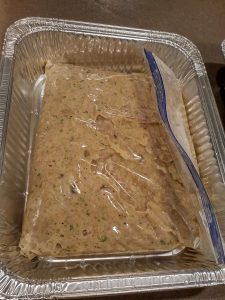 I made philly cheesesteak sloppy joes.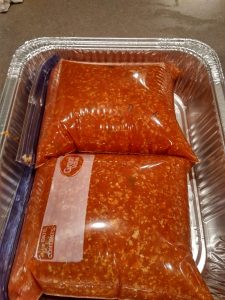 two meals worth of sloppy joe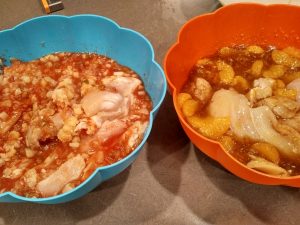 I made two chicken marinades–-one salsa pineapple and the other terriyaki and orange.  I will either grill or crockpot these.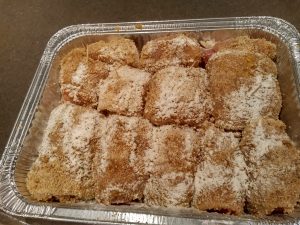 chicken cordon bleu for a pan.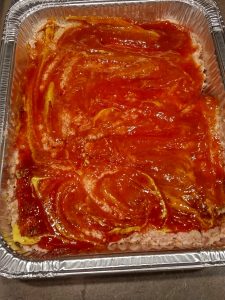 I did a pan of meatloaf out of ground turkey.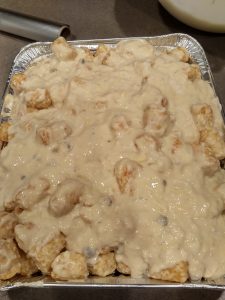 A pan of tater tot casserole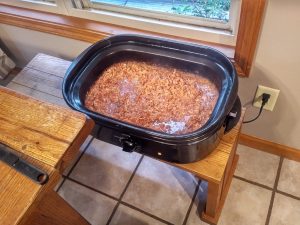 I then cooked 24 packages of bacon that I found at an awesome sale–they cost me $8.  I froze some and used the rest for these recipes.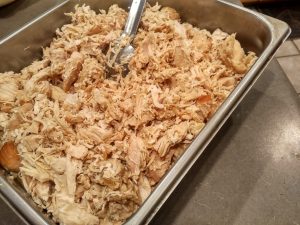 Here is the chicken all shredded.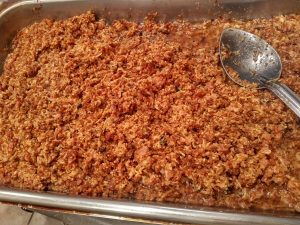 Here is the bacon after it was cooked in the roaster—it cooked it all together so there was no need to have to food processor them–I wanted them into bit pieces.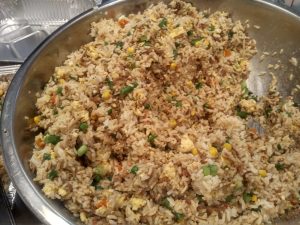 Four pans of fried rice with bacon and some roast beef.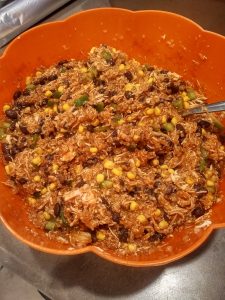 This was a meal for me...enchilada casserole–I used quinoa.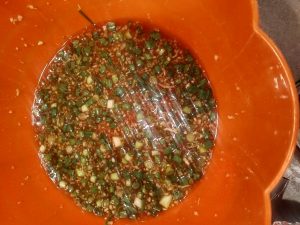 I then made a new dish called oriental chicken salad–I am going to put it on lettuce leaves. I froze these as well.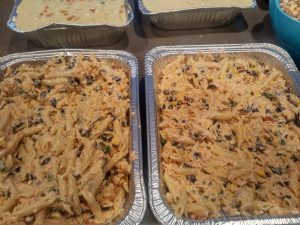 Two pans of southwestern chicken penne pasta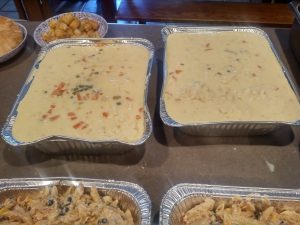 Two pans of chicken pot pie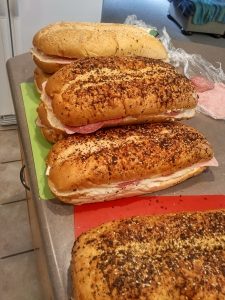 two meals worth of poor boy subs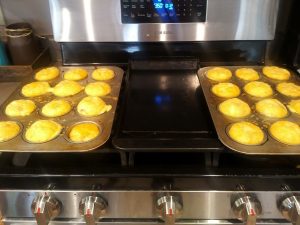 I then cooked a bunch of egg mixtures in muffin pans. I placed on the bottom bacon, scrambled egg mixture, shredded cheese.  Baked 350 until done.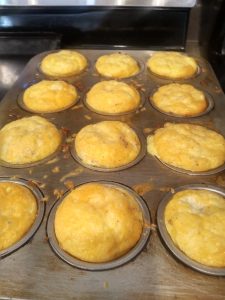 This was an easy way to make them for sandwiches.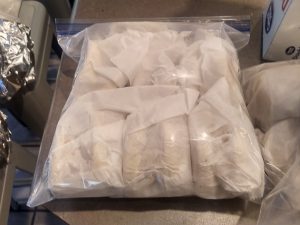 I then placed them on English muffins to make breakfast sandwiches for the month.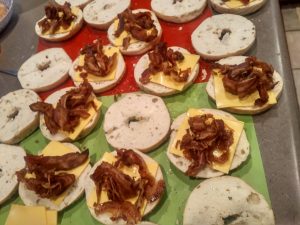 I then topped bagels with bacon, cheese, and eggs.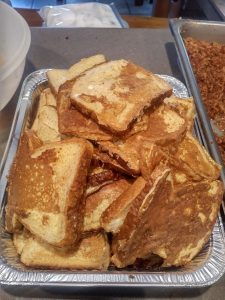 French toast for the month.  We can eat this once a week.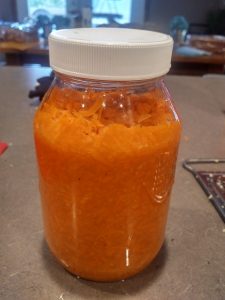 I also tried something new.  ginger carrots I like fermented foods so I thought I would try this.
I also made a pan of cube steak with gravy
Then I made a pot of corn chowder soup to eat as an easy meal for Sunday lunch.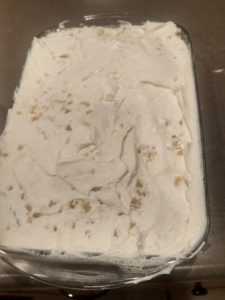 I made two cakes that I had wanted to make last month.  Gramma's pineapple cake.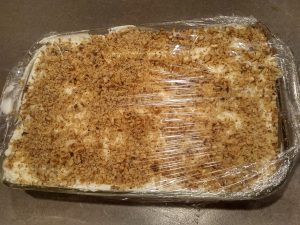 Preacher cake--this was a good one as well.
Overrall, I started after I got home from shopping on Friday at 5:00 and finished Saturday night around 8:00.  I slept for about 4 hours and made over 100 meals. Of course I had to stop and tend children and feed them, but for the most part, I had meals that I was making so I just put out extra or leftovers.  It worked.  Now my freezers are full for the month and I won't have to cook.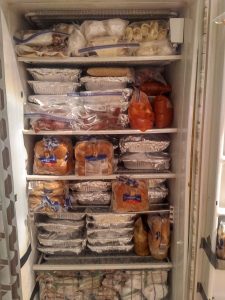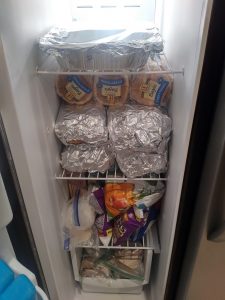 I also did some bagels with cream cheese and salami and froze them.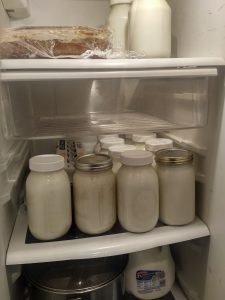 I made a double batch of yogurt as well to make smoothies.
This is what I have for the month:
Breakfast we can each week have the following:
bagel egg sandwich
english muffin sandwich
breakfast burrito
french toast
yogurt smoothies and muffins
I have to make waffles still as I am waiting until my bananas go ripe and then I can use them.  Also a batch of muffins I will make on baking day. I will serve yogurt smoothes that I froze in little cups and we will eat those two times per week.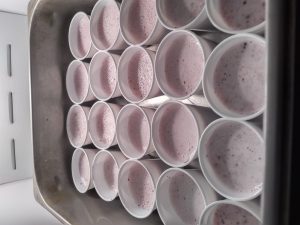 If I get them out the night before and place them in the refrigerator they will be slushie and the children like them this way.
If I need anything else we can do oatmeal or toad in a hole for breakfast.  But with this above list, we should have a nice homemade breakfast each day. I didn't even buy one box of cereal!!!
For lunches which I don't have pictures, there is some in the video we did enough to have the following once per week:
peanut butter and jelly sandwiches
grilled cheese sandwiches
grilled ham and cheese sandwiches
We will have to make this once per week:
lentil rice casserole
mexican grill cheese
chicken salad on tortilla or crackers
Snacks will be:
bananas
apples
chips and salsa
We are going to bake this in the month.  Choosing two per week to do on baking day:
pumpkin pie bars
easy cheesecake
double chocolate crumble
chocolate eclair dessert
dirt cups
lara bar balls for mom
Dinners we will eat:
2- million dollar casserole
2- lasagna
2 chicken parmesan
smoky bacon sloppy joe
2-southwestern chicken penne pasta
2- whole baked chickens
philly cheese sloppy joes
jared casserole
4-shish kabobs
chicken cordon bleu
tater tot casserole
2 gwumpkies
2 sausage red beans and rice
4 fried rice
meatloaf
2 chicken pot pie
salsa pineapple chicken
terriyaki chicken
2 sloppyjoes
cube steak
poor boy subs
Meals I didn't freeze but have on hand to make:
beef stroganoff
mac cheese-hotdog-peas
chili
hamburgers
Meals for myself:
oriental chicken salad
enchilada chicken
This in total gives me over 30 dinner meals, over 30 lunch meals, and over 30 breakfast meals.
I can tell you right now that this is working amazingly.  I worked really hard for those two days, got to rest on Sunday, went through 5 huge black trash bags of garbage but now I am finished.  Each night I head down and take out the meals I need for the next day and they are done.  No thinking, no work, it frees up my days hugely!!!  I spent way less than I usually do for the month. We were spending over $1000 by making meals each night, now we have things for every meal, all I have to buy is milk, cottage cheese, and produce and fruit that will go bad. I am assuming another $100 I will spend.  Well worth the two days of crazy.
Here is a PDF of my food list that I will put on my refrigerator.  As I make a meal, I will cross it off so that I know what is in the freezer.
Hope this gives you some inspiration to start freezing some of your meals.  Have a very blessed weekend!