I have been busily redecorating my home this past year.  After years of having so many little ones all in a row, it was time to start making my house a home.  One of the first things I did was go through the countless number of DVD discs that had our family photos on it for the last 8 years and decide which ones I wanted to have printed off.  One thing I have never had was lots of photos hanging up around my home.  There just wasn't much time to do those kinds of things.
I wanted to find a way to hang them up without doing it the traditional way of just pictures hanging on the wall.  And I needed to do it inexpensively.    I came across this site by ANA WHITE on how to make $10 shelves and I saw how she, as a woman, made them herself.  I knew it was something that I could do, well actually have my son do for me:)
We headed to our local Menards and bought some lumber.  For 2-4 foot shelves you need:
2 pieces of 1x4x8
1 piece of 1x2x8
It cost us less than $10 to buy this wood.
Then I had my son cut these all in half.  On the tutorial I saw they glued the pieces together but we just screwed them together–I was going to use a darker stain so I didn't worry that I had used screws vs nice finishing nails.  This is how they looked.
Here are all 4 of them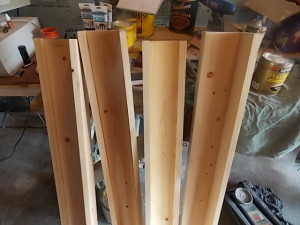 Then we used some black wipe on stain and I filled in the screw heads with permanent brown marker.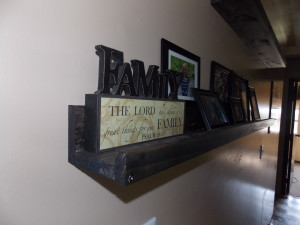 I am so pleased at how they turned out.  And I love that they were so cheap.  I had some of our family favorite photos blown up and put them in Dollar store frames.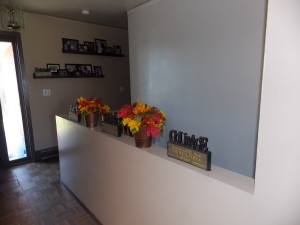 ***by the way a quick tip for homes where children touch EVERYTHING….For years I didn't put any knick knack or decorations out because with 6 little ones it was impossible to watch everyone all the time.  This year I discovered the wonderful value of VELCRO.  Yes Velcro, every place that I thought a child would say, push the decorations over the ledge, down the stairs, i used velcro.  They make it where it won't rip off your paint when you goto move it later on.  Genius idea.
I was so excited at how they turned out that I immediately went and bought more wood and had my son make me another set of 4 for our girls room.  We painted theirs pink.  Now everyone has a special shelf with which to hold all their possessions.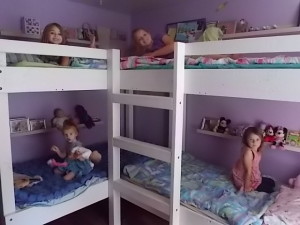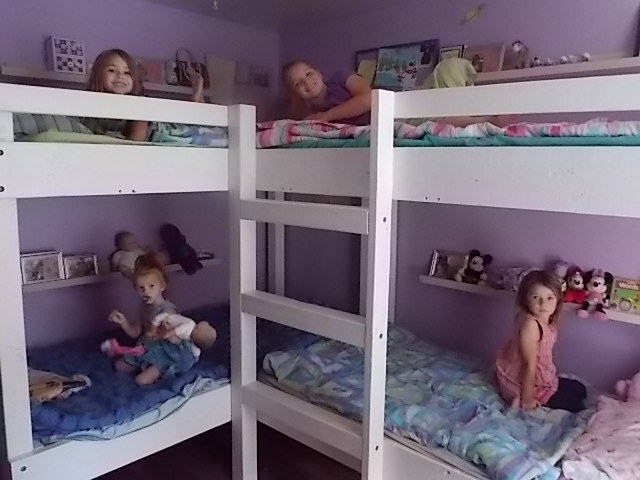 Yes that is a homemade quadruple bunk bed.  Made by my wonderful husband.