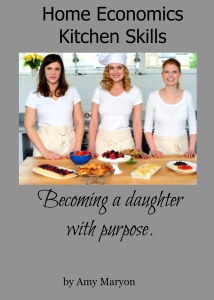 I have been diligently working to get my home economics curriculum in a ebook form and the time is almost here!!  In a few short weeks, it will be made available to you.  It  is part of a Training our daughters series here at plainandnotsoplain. 
We want to be training our daughters for a life of purpose.  That begins by expanding their skill sets.  The 2nd book in the series will cover Kitchen Skills–it will be very detailed and more in depth than my FREE home economics course that we offer.   You will not need internet access, everything will be included in the book.
You can get our first book FREE by clicking here.  It is about training our daughters to be good stewards of their time.  A good first read to training them about time effectiveness.
Keep watching and I will give updates as time gets closer to completion.
Be blessed.